About the Client
Irish Water is Ireland's new national water utility. It has been tasked with bringing the water services of the 34 Local Authorities together into one national service provider, with the aim of reducing costs, generating economies of scale and increasing efficiencies. Over the coming months and years Irish Water will gradually establish the organisation and take over responsibility from the local authorities for the delivery of water and wastewater services to over 2 million homes and businesses in Ireland.
The Challenge
Working closely with the Irish Water channel engagement team we developed a 3 milestone Digital Strategy. Milestone 1 was the initial launch of Irish Water brand and benefits site. Milestone 2 is the upcoming registration and validation process and Milestone 3 is full online billing and OSS capability set to commence when the first bills arrive in January 2015. The brief was to deliver an online presence to meet and exceed the needs of their broad domestic segment consisting of 1.8 million households.
Our Solution
For Milestone 1 we focused on developing a site that addressed the key concerns of Irish Water customers at this stage in the process. These are
Am I an Irish Water Customer?
When does the metering process start?
When does the billing process start
The result of this work is a highly intuitive website with focused content and services to address these 3 customer questions.
How We Did It
Task based navigation design provides ease of access to content relevant to users.
Innovative new Q & A section that allows users easily find what they are looking for.
Fully Responsive Web Design (RWD) so that users can browse the site easily on desktops, tablets and smartphones .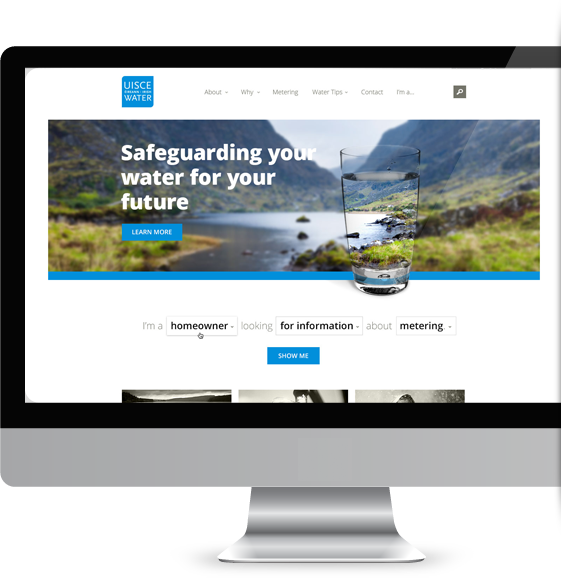 Services Provided
Digital Strategy
User Experience
Design and CMS
Content Strategy
SEO