About the Client
Bord Gáis Energy is the retail arm of Bord Gáis, selling gas and electricity to all market segments, with related activities including call centre management, billing and sales and marketing. It also provides appliance servicing products to customers. Bord Gáis Energy serves over 600,000 gas customers and 300,000 electricity customers.
The Challenge
Having worked with Bord Gáis in developing their Digital Strategy we have a deep understanding of their business in terms of their strategic goals online for acquisition and customer management. The brief for the redevelopment project was to deliver a new website to meet and exceed the needs of their five market segments. This included the 350,000 new domestic electricity customers won as part of the Big Switch campaign.
Our Solution
We invested a significant amount of time determining the best way to present the commercial aspects of the site for new and existing customers. The result of this work is a highly intuitive website with focused commercial services and supporting content. One innovative feature was the development of an Interactive House for the new Home Services division of Bord Gáis Energy. This feature allows potential home services customers to browse a virtual house and interact with products/services within this house that can be bought either via their account or an online store.
How We Did It
Simplified navigation design provides ease of access to online services for Bord Gáis Energy's five market segments.
Innovative new video and animation based interactive house for Home Services.
Best in class design elements to reflect quality of the brand.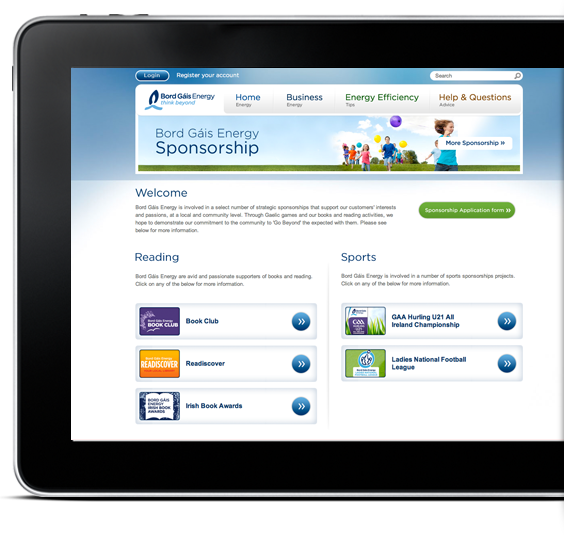 Services Provided
Digital Strategy
User Experience
Design and Development
Interactive Video
Content Strategy
SEO