About the Client
Aviva Health is one of the largest health insurance providers in Ireland. It grew out of the former VIVAS Health Company rebranding in the last decade to Aviva Health.
The Challenge
Vivas health approached Webfactory in mid-2006 with a view to redesigning their consumer website to improve business goals such as online conversions, enquiries from online and overall strategy for online channel growth. Since then, Webfactory has worked closely with the company through their rebranding to continuously deliver a superior online health insurance website.
Our Solution
Our initial work for Vivas Health followed extensive user research and was extremely well received. The last rebrand (April 2010) to Aviva Health has seen the website continue to deliver with a clear online value proposition and an easy to use interface which allows visitor to buy their tailored plan online, usually within five steps.
Most recently we launched a redeveloped Comparison and Switching Tool for Aviva Health which has proven very successful. This dynamic, interactive tool allows users compare their current health plan with Aviva Health's offerings in a detailed, easy to use way.
How We Did It
Working closely with Aviva Health to ensure all user paths clearly defined.
Ensuring the integration to the Back End system was seamless.
Providing quick user interaction tools such as switching 'slider'.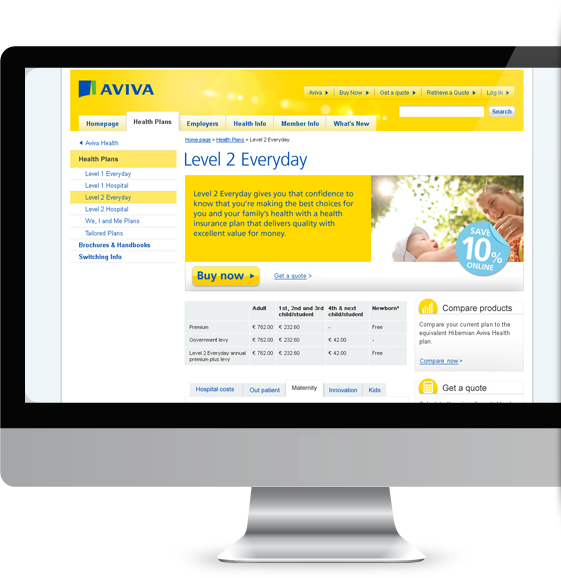 Services Provided
Research
User Experience
Design
Development
Roxen CMS